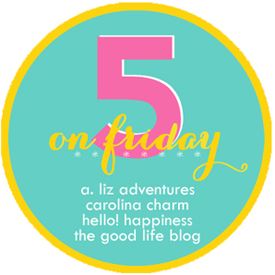 I enjoyed linking up with Darci from
"The Good Life Blog"
last time so I thought I would do that again today!
1. I am so thankful for this season. Growing a baby is hard work but so fun at the same time. I mean, when else in your life can you ask for ice cream every day and it not be an issue!! :) My favorite choices right now are:
Yogurt Mountain: not necessarily this mix but it's awesome because you can get anything you want!!!
Turkey Hill Cookies and Cream:
2. Over the last few weeks, I gotten lots of calls for PRN work which was so nice for the little extra cash to help us meet some financial goals right now!
3. Today, we are headed to Pennsylvania for a little family reunion for Matt's Dad's side of the family. It will be a quick trip but should be fun nonetheless.
4. Today is also Cow Appreciation Day at Chick-fil-a! Just FYI. More info
here
.
5. Matt and I love to watch TV series together. We don't have cable though so during the season, we will usually watch online the next night. All of our show are in the off season so I was on the hunt for a summer show. I heard about Chicago Fire and we both love it! Check it out. The whole first season is on NBC.com right now. New season will start in September!