Linking up with Ashley for her "Friday's Letters" linkup!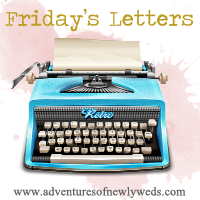 Dear Pinterest, Your quotes like the one below are starting to make the world go-around....And this one is my Fave!
Dear Lela Cole Moody, Your cheeks make me smile EVERY time I see them. Can't believe you are 5 months and 4 days old.
Dear Crayons, when you are glued onto canvas and melted with a hair dryer, you look pretty awesome. Just sayin'.
Dear Toys R' Us, thanks for having 24-pack crayons on sale for 25 cents last week. We bought 20.
Dear Chalkboard paint, you are making my life so much fun. And you made this awesome platter, awesomer.
Dear Chevrolet S-10 that we purchased last week, my husband loves you and because of that, I love you too.
Dear Olympics Opening Ceremony, Tonight we will celebrate you with food.
Dear Nashville, we are spending the weekend with you. WOOT!
Til then-
Did YOU Hear about the Morgans?